Coalition's 'asset recycling' scheme watered down in Senate | World news | theguardian.com
Coalition's 'asset recycling' scheme watered down in Senate
Amendments include vetting of infrastructure projects worth more than $100m and Senate veto on certain incentives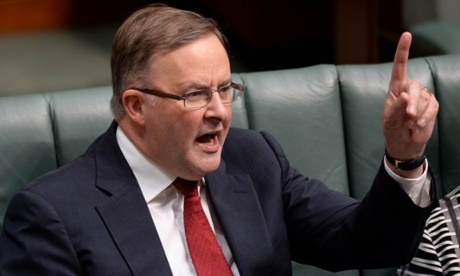 The Senate has imposed limitations on the government's "asset
recycling" scheme, ensuring the upper house can veto proposed incentive
payments to the states for using the proceeds of privatisation to fund
infrastructure.

Labor won adequate support for an amendment to
ensure those infrastructure projects worth more than $100m were
assessed by Infrastructure Australia with a published cost-benefit
analysis.

The Senate passed the government's legislation on Thursday night but only after agreeing to significant amendments.

The
fund will provide incentive payments to state and territory governments
that sell assets and use the proceeds to build "nation-building
infrastructure". The top-up provided by the federal government will be
15%.

One of the changes made by the Senate would ensure the
government could not grant particular incentive payments without using a
legislative instrument. This effectively means the Senate could
"disallow" any particular incentive.

Labor's transport spokesman,
Anthony Albanese, said the upper house would not be able to "stop states
selling a hospital to build a road" but it would be able to prevent an
incentive payment being made for such a transaction.

"What it doesn't allow is an open-slather attitude towards privatisation with no accountability," he said.

The
government criticised the amendments during the Senate debate. The
finance minister, Mathias Cormann, said: "These amendments only add red
tape with no additional benefit. These additional amendments are about
increasing duplication."

The Senate passed a Greens amendment
opposing the use of the fund for privatisation of essential services.
The Greens also secured Senate support to add the words "encouraging
privatisation" to the original name of the legislation, the asset
recycling fund bill.

The Greens senator Scott Ludlam said the bill
"would create a toll-roads slush fund at the expense of investment in
public transport, and at the expense of revenue-generating publicly
owned state assets".

"State governments should not be bribed with
incentive payments to sell off public assets in public hands and the
Greens will fight this move all the way," Ludlam said.

The bill will now have to return to the House of Representatives for approval.